Although most users naturally use Microsoft Office, there are free alternatives on the market – for example, the OpenOffice suite. Is it really profitable to spend money on the corresponding Microsoft product, or is the free alternative enough? We have compared here the two products: MS Office and OpenOffice.
Today, when you buy a PC or Mac, you have most often thought in advance about the software needed for its actual use. While it is clear that individuals use software other than professional users, some standard programs should not be lacking anyway. These include the Chrome browser, Firefox or Opera, music software such as iTunes or Windows Media Player – and of course word processing programs. Without thinking about it more than that, most individuals and business customers use Microsoft Office, and rightly so. The combination of word processing, spreadsheet tool, presentation software and, depending on the edition, email management, has been at the top of the software Olympus for decades. Indeed, it offers very extensive functionalities for all fields of application, it is regularly updated and is equipped with functions that are always renewed and up-to-date. However, Microsoft is not the only provider of Office software. In particular, the free and open source software Apache OpenOffice, which has made its place over the past 10 years as a true competitor to MS Office. To date, more than 225 million people have downloaded the OpenOffice suite. It appeals especially to young users, who, in the years when they are new to Office, have a limited budget to manage. On the other hand, when you have already worked with MS Office and had the opportunity to familiarize yourself with different versions of the program, it is rare to switch to OpenOffice. The human being is steeped in habits….
OpenOffice vs. Microsoft Office: Packs and Content


A point goes to OpenOffice for its clarity. When you go to the official page to download the rest, you don't have to deal with several versions and grouped offers, and you avoid the compartmentalization between private, commercial and professional users. The OpenOffice suite includes a downloadable package, which contains the following programs:
Writer: the word processing program, comparable with Microsoft Word
Calc: The spreadsheet, comparable with Microsoft Excel
Impress: The presentation program, comparable to Microsoft PowerPoint
Draw: the drawing and graphic processing program, comparable with Microsoft Paint
Database: the database program, comparable with Microsoft Access
Math: the program dedicated to mathematical formulas, roughly comparable with Microsoft Formal Editor
Are you looking for an equivalent to Outlook in the list of OpenOffice programs? Unfortunately, this suite does not have any e-mail management software to date.
The diversity of Microsoft Office versions makes the task more complex. The different offers can be divided into three categories:
Occasional users and students
In this situation, most users use the recent Microsoft Office 2016 "Home & Student" version, which contains the following programs:
Microsoft Word 2016 (Word processing)
Microsoft Excel 2016 (Spreadsheet)
Microsoft Powerpoint 2016 (Presentations)
Microsoft OneNote 2016 (Notebook)
2. Users who intend to use the software for commercial purposes

Microsoft Office 2016 Home & Business brings a bundle that includes, in addition to the programs of the Home & Student variant, the Microsoft Outlook 2016 program. Thus, Office Home & Business is suitable for ambitious home users but also for small businesses.
3. Professional users

By purchasing Microsoft Office 2016 Professional, you get the complete range of Office programs. In addition to Word, Excel, Powerpoint and Outlook, the offer includes the following programs:
Microsoft OneNote 2016 (Notebook)
Microsoft Publisher 2016 (Program for the design of documents for printing, websites, product presentation, comparable with Adobe InDesign)
Microsoft Access 2016 (Database management)
Microsoft Office 2016 Professional is thus mainly intended for commercial use: the complete design, processing and publication of data. A comparison with OpenOffice would be very disadvantageous here, since this free alternative has a much smaller volume of programs.
OpenOffice and Microsoft Office in direct comparison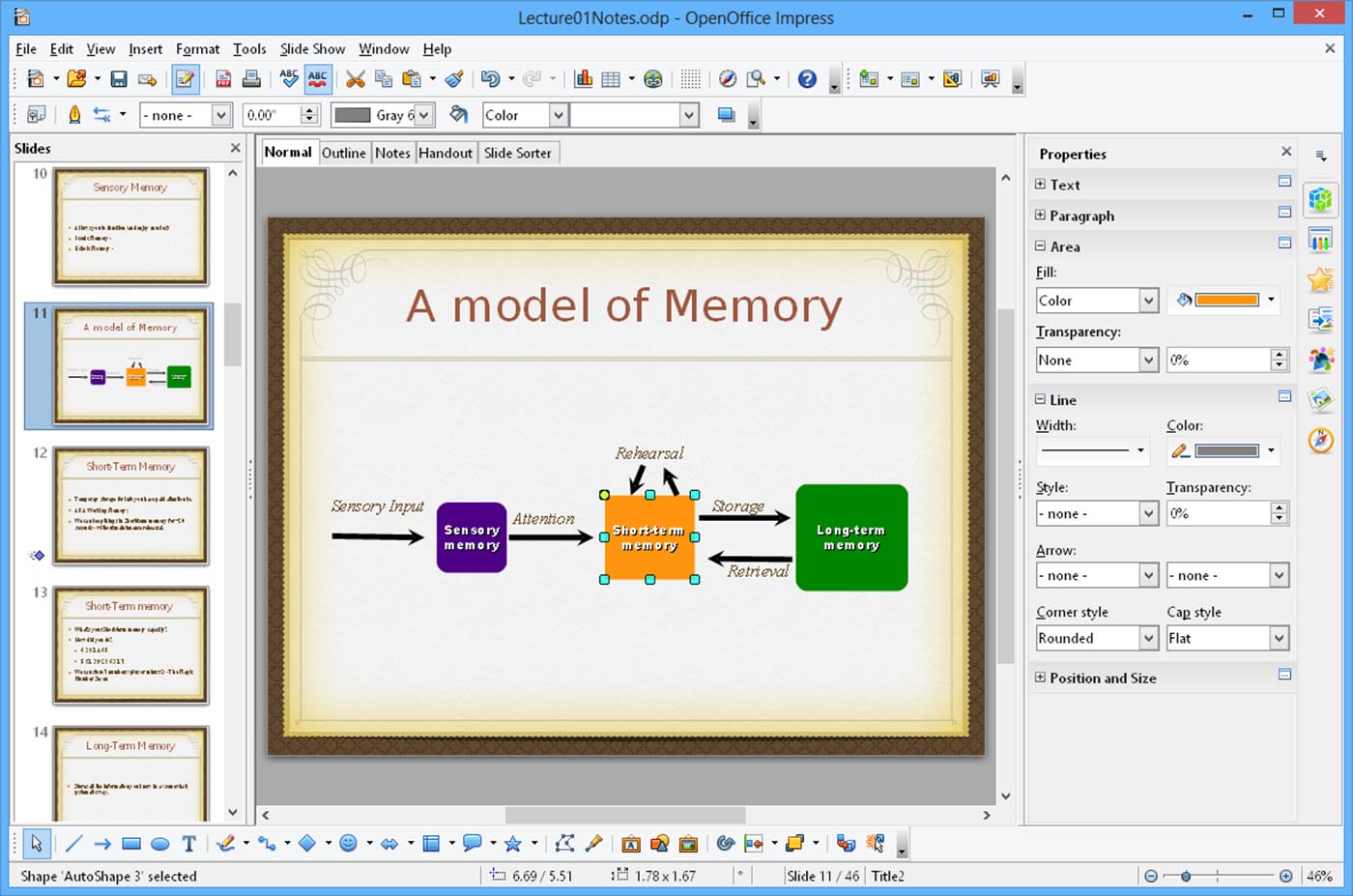 Now that we have introduced you to the different versions of OpenOffice and Microsoft Office available, we will proceed to a direct comparison. Where are the strengths of OpenOffice, and is the free alternative to Microsoft really up to the task?
The advantages of Apache OpenOffice:
completely free, downloaded and installed in a few minutes from the openoffice.org page
compatible with Windows, Mac and Linux systems, impeccable cross-platform document exchange (.odt format)
OpenSource: The source code is freely accessible, so that each user can make changes and evolve the software
no nested menus (called Ribbons), but a simple menu structure.
However, direct comparison with Microsoft Office also reveals many inconveniences with OpenOffice:
It takes some getting used to the user interface, and if you have worked with recent Microsoft Office programs, it will be even more difficult for you to switch.
Compatibility with Microsoft Office is not 100% guaranteed. Admittedly, the possibility of saving a file in.doc under Writer or in.xls under Calc suggests total compatibility, but in practice it is unfortunately not the case. These are mainly macros and complex formula structures for which the transfer to Microsoft Office programs lacks reliability, which can be very annoying when trying to send a file to a colleague or friend who does not work with OpenOffice.
The compatibility between Impress and Powerpoint: the interaction between this two software is rather delicate. When you want to import an Impress file into Powerpoint, you should expect the layouts to be trimmed and the texts to be shifted. The same in the opposite direction: when you want to load a.ppt file into Impress, it is better to have time to resume and improve your document.
Languages in text documents and spelling checking: As far as languages are concerned, OpenOffice is quickly limited. Already, you can only download your pack with a language chosen upstream. If you want to switch from French to English later, for example, you will need to download the corresponding file from the OpenOffice.org page and install it. Beyond that, OpenOffice's spell checker is clearly worse than Microsoft Office 2016's. The limit of OpenOffice is, in particular, quickly found when you are interested in grammatical errors.
One of the biggest drawbacks of OpenOffice is the lack of Outlook-based email management software. This makes OpenOffice almost unusable in the business context, because no entrepreneur will acquire Microsoft Outlook alone to add it to his OpenOffice suite. Especially since it would make no financial sense.
Bottom line: Is it profitable to focus on OpenOffice rather than Microsoft Office?
Overall, no. A recent version of Microsoft Office has many advantages over the OpenOffice suite. One of the main arguments is brought by Microsoft Outlook, which has no competitor to date in the OpenOffice universe. But it is also the flawed compatibility of OpenOffice programs with MS Office files, as well as the incomplete spelling and grammatical correction that convince people to choose a Microsoft product.
It is therefore mainly Office licenses that are needed, because their quality/price ratio is optimal. However, it will always be necessary to pay particular attention to the seriousness of the supplier, whether you are using new or second-hand software. Licenceking.de guarantees its customers a serious purchasing process and offers first-class support, by phone and online, in case of difficulties during activation. Microsoft Office 2016 is already in our catalogue in its Home & Student version for £79 (single purchase). If you don't want to give up Outlook or if you have a Mac, you should use the Office Home & Business version instead. The activation key is sent, as soon as the purchase is concluded, by e-mail to the user; the Microsoft program can then be downloaded free of charge from licenceking.co.uk.